Garmap and Tools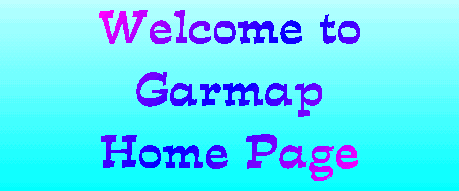 Japanese Page is Here
Last Update : 22.Sep.2012


VideoTrack
22.Sep.2012
This program displays tracks in synchronization with the corresponding video.



VideoTrack requires Microsoft .NET framework 3.5 or newer.
Download from evaluation program page.
Garmap2

Version 1.27 / 13.Sep.2008

1. Supported IGC (import/export) and KML(export only) file format. (see information kml file and GoogleEarth)
2. Fixed UTM zone calcuration defect.

Download archive including Windows Installer (4.5MB)
Download archive without WIndows Installer (1.6MB)

GarComm.ocx

Garmap Win
Version 1.19 / 22.Oct.2000
Bug Fix and Minor change.

New feature - Number of plotting track point is got from registry.

Version 1.80 / 16.May.2009

Support GPSmap60Cx.


Notice:


To use more than 9600 bps transfer, choose "Other Garmin" as GPS model.
If character problem occurs in file open dialog, delete gsgetfile.dll.

Version 1.40 / 27.Feb.2007

Add new feature to show NMEA0183 sentence.

Program to translate color bitmap files to 2bp bitmap files.
bmpdiv
20.Apl.2001
Program to make a map data for Garmap CE.

2001.03.31

Garmap CE is compiled using latest compiler.
---
Information
KML track display problem using GoogleEarth

Some parts of a track displayed on GoogleEarth may not be seen, or a track isn't shown. A track which has negative values as elevation causes this.problem. This case, you may need to edit KML file using a text editor which support UTF-8.

<altitudeMode>absolute</altitudeMode>
|
V
<altitudeMode>relativeToGround</altitudeMode>
---
Copyright(C) 1999-2012 Fukuro All rights reserved.